Every year, the most popular New Year's resolutions tend to have one thing in common: they're about committing to looking your best. Whether you want to eat healthier, exercise more, or stay on top of your grooming habits, it's normal to think about wanting to improve your appearance as you move into a new year.
If you resolved to work on your appearance in 2022, there are a variety of non-invasive cosmetic treatments that can help you harness that resolve right now and give you a jump start on your goals. Depending on what you want to achieve, these treatments may even help you reach your goals right away. Here are the six best cosmetic procedures to get while you're still resolution-focused.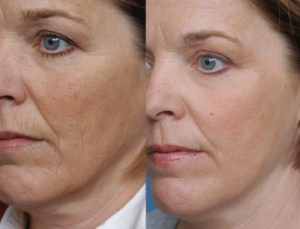 Laser Skin Resurfacing
If you're struggling with issues like acne scars, wrinkles, discoloration, dullness, or a loss of firmness, laser resurfacing is one of the best things you can do for your skin. Laser resurfacing can remove blemishes and smooth the skin through the application of a specialized kind of light.
At the Z Center for Cosmetic Health, we use the Nano-Ray Laser, which uses light energy to rapidly vaporize water in the skin tissue. The result? An improvement for stubborn skin issues like hyperpigmentation, scars, and fine lines. The results of laser resurfacing can give you a dramatic confidence boost, which is a great way to start your year. Another reason to get laser resurfacing sooner rather than later is that winter is the best time to get a laser treatment. A crucial part of post-treatment care for laser resurfacing is staying out of the sun, which is always easier to do in the winter. 
Body Contouring
Every year, the top New Year resolutions are to lose weight and exercise more. Yet, while a healthy diet and regular exercise are essential, sometimes the look you want can't be achieved through diet and exercise alone. If you're struggling with issues that are largely determined by genetics–such as stubborn pockets of fat (or cellulite)–a body contouring treatment could be just what you're looking for. Body contouring can also help jump-start your fitness journey. Seeing the results of your treatment can help you stay motivated to eat right and work out all year long. 
EMsculpt NEO and CoolSculpting ELITE
EMsculpt NEO and CoolSculpting ELITE are both excellent body sculpting treatments, but they work differently and produce different kinds of results. Emsculpt NEO works to build muscle and reduce fat through HIFEM, a combination of high-intensity focused electromagnetic energy and radiofrequency heat. CoolSculpting ELITE works to freeze and eliminate fat through the application of cooling technology or cryo lipolysis. Both of these treatments can reduce stubborn fat, but Emsculpt NEO also builds muscle.
Generally, CoolSculpting ELITE is the better treatment for those who only want to reduce fat, while Emsculpt NEO is the better treatment for those who want to build muscle and like the added benefit of reducing fat. If you're unsure which treatment would be right for you, Dr. Zadeh can help you understand how each treatment may work considering your treatment goals and your unique body.
Something both of these treatments have in common is that it takes time to see their final results. Both Emsculpt NEO and CoolSculpting ELITE require multiple sessions and the full results of each session may not be clear until a few months after your last treatment. If you want to makeover your body this year, know that the sooner you start body contouring, the sooner you'll see the results you're looking for. 
QWO
Nine out of ten women will experience cellulite in their lifetime. But while cellulite is a common cosmetic issue, it can still be distressing. Cellulite is incredibly hard to get rid of since, in most cases, cellulite is simply genetic. It isn't caused by what you eat, how much you eat, or how much you exercise, so changing your diet and exercise regimen usually does nothing to eliminate cellulite. 
While cellulite is very hard to reduce through diet and exercise alone, there are cosmetic treatments that can reduce the look of cellulite. One of the best cellulite treatments is QWO, a new FDA-approved injectable treatment that targets the structural issues that cause cellulite using collagenases enzymes. QWO is incredibly effective at treating moderate to severe cellulite, but it's best to start the process now. QWO requires three sessions spaced 21 days apart and can result in bruising. So, if you want to see the full results of QWO by swimsuit season, now is the perfect time to begin your treatments. 
Botox
Botox is the most popular non-surgical treatment for good reason. With just a few injections, Botox can instantly soften the look of dynamic facial wrinkles by relaxing the facial muscles. Botox can instantly smooth away things like crow's feet, forehead lines, frown lines, and neck bands. When performed by a skilled doctor with an artistic eye, such as our own Dr. Zadeh, Botox can also be used to change the overall look of the face. For example, Botox can be applied to the masseter muscle (along the jaw) to slim the face or applied to the brow area for a subtle brow lift.
Botox has many advantages, but perhaps the biggest is how fast it works. Botox provides results in as little as 5-7 days, which can make a huge impact on how you feel. If you want to start 2022 with an instant confidence boost, Botox is an excellent option. 
RF Microneedling
Do you want your skin to look smoother, tighter, and more youthful? Genius Radio Frequency Microneedling may be the solution you're searching for. Genius RF is a groundbreaking new treatment that uses radiofrequency technology to deliver thermal energy into the deep skin through gold-plated microneedles. This stimulates natural collagen growth, which results in a more youthful appearance. 
Genius RF Microneedling is an excellent neck and facial rejuvenation treatment for treating wrinkles, skin laxity, scarring, and overall aging. And the best part of this treatment is that it's long-lasting. The results of Genius can continue to develop for up to six months after the initial treatment and the final results of the treatment may last for years. 
Make a Consultation Appointment Today 
If you're ready to start the year off feeling like the best version of yourself, make a consultation appointment at the Z Center for Cosmetic Health today. At your consultation appointment, Dr. Zadeh will learn more about your aesthetic goals and create a customized treatment plan to help you reach them.