Restylane Lyft is a wonderfully versatile anti-aging treatment. This injectable filler is excellent for both smoothing wrinkles and restoring lost volume, and it can be applied to both the face and certain parts of the body. But is this flexible anti-aging treatment the right one for you? Find out below as we go over the answers to the most frequently asked questions about Restylane Lyft.

What is Restylane Lyft?

Restylane Lyft, formerly called Perlane, is an injectable dermal filler that's designed to address volume loss and treat wrinkles. Restylane Lyft is most commonly used to plump the cheeks, fill deeper smile lines, and restore volume to the back of the hands. It's notable that Restylane Lyft can be used as a hand rejuvenation treatment since this is unique among fillers. Restylane Lyft is the first and only hyaluronic acid filler that is FDA-approved to treat the hands.

What Does Restylane Lyft Treat?

Restylane Lyft is a multipurpose filler that can smooth and plump numerous areas. This filler is specifically designed to treat the midface area and the backs of the hands, then can also be used to restore volume and treat deeper wrinkles on most parts of the face.

Some examples of areas that Restylane Lyft can treat include:

Cheekbones
Apples of the Cheeks
Backs of the Hands
Hollows of Under Eyes
Temples
Nasolabial Folds
Chin
How Does Restylane Lyft Work?

The main active ingredient in Restylane Lyft is hyaluronic acid (HA), a hydrating molecule that naturally occurs in the body. Hyaluronic acid is responsible for keeping the skin moisturized and plump. Through strategically placed injections, the hyaluronic acid in Restylane Lyft can restore lost fullness and smooth wrinkles, creating a more youthful appearance in the face and hands. In addition to containing its active ingredient hyaluronic acid, Restylane Lyft contains lidocaine, a local anesthetic that makes this injectable treatment more comfortable.

Many other fillers work in the same general way as Restylane Lyft, but the size of the hyaluronic acid molecules within this filler give it unique application potential. The hyaluronic acid molecules within Restylane Lyft are larger than the molecules in many other HA fillers. This makes Restylane Lyft particularly good for sculpting the face, adding back lost volume, and filling deeper wrinkles.

How Long Does Restylane Lyft Last?

Over time, the body will begin to break down and process added hyaluronic acid, eventually clearing it entirely. So, the results of all hyaluronic acid fillers, like Restylane Lyft and all the various types of Juvederm, are temporary.

How long Restylane Lyft will last can vary. Generally, a first-time Restylane Lyft treatment will last for around 6 to 9 months. Follow-up Restylane Lyft treatments will usually last longer, since the body tends to respond more readily to Restylane Lyft treatment after having it in the past. Second-time patients usually have results that last for around 9 to 12 months.

How Long Does Getting Restylane Lyft Take?

Restylane Lyft is a quick treatment that requires no downtime, so it's something you could do on your lunch break. How long a Restylane Lyft treatment will take depends on how many injections you are getting, but will generally last anywhere between 20 and 40 minutes.

When Do You See Results From Restylane Lyft?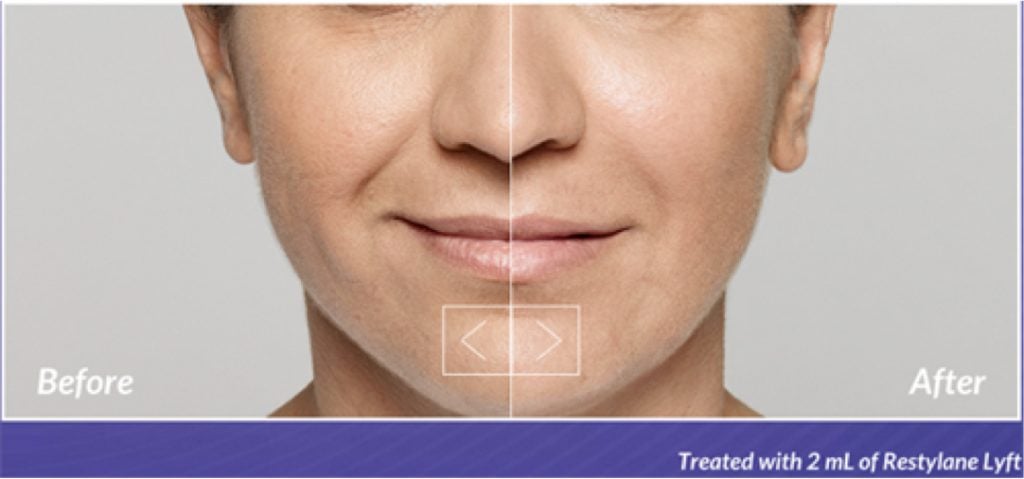 The results of Restylane Lyft are immediate. You'll see improvement in the severity of your volume loss and/or your wrinkles right away. If you have any post-treatment side effects, such as bruising or swelling at injection sites, it may take a few days for you to see your final results, but you will still notice a change right after your treatment.

Is Restylane Lyft Reversible?

Restylane Lyft is a reversible filler. If you are unhappy with a Restylane Lyft treatment, Dr. Zadeh can dissolve it using hyaluronidase, an enzyme that breaks down hyaluronic acid.

What's the Difference between Restylane Lyft and Restylane?

Restylane is a brand name for a line of hyaluronic acid gel fillers made by Galderma, the same company that makes Dysport. Restylane Lyft is a part of the Restylane family of fillers, so it is one type of filler within the Restylane line. Restylane Lyft is formulated with larger HA molecules, allowing it to work better for adding facial volume and filling moderate to severe facial wrinkles. Other fillers within the Restylane family of products include Restylane (a medium molecule HA filler that's best for mild to moderate wrinkles) and Restylane Silk (a small molecule HA filler that's best for very fine lines).

Who is a Candidate for Restylane Lyft Filler Injections?

Anyone who wants to try a non-surgical cosmetic treatment to address volume loss and treat wrinkles in their face or hands could be a good candidate for Restylane Lyft, provided they're also at least 21 years of age and in good health.

Restylane Lyft in Sherman Oaks, CA

If you're interested in trying Restylane Lyft, make a consultation appointment at the Z Center for Cosmetic Health today. At your consultation appointment, you'll meet with Dr. Zadeh, who performs all of our injectable treatments himself. Dr. Zadeh will ask you about your cosmetic goals, examine the areas you'd like to treat, explain your treatment options, and help you decide whether or not Restylane Lyft would be an ideal fit for your treatment plan.