Dermal fillers are an incredibly versatile cosmetic treatment. They can help smooth wrinkles and fine lines, plump the lips, and fill in hollow areas of the face. There are many different kinds of fillers available today, each of which has its own unique formula, usage, and duration. So, which dermal filler is right for you? To help you better understand the different kinds of dermal fillers, let's break down four of the most popular varieties: Juvederm, Restylane, Voluma, and Sculptra.
Dermal Filler: Juvederm

Juvederm is a dermal filler that's made from a synthetic form of hyaluronic acid, a substance that naturally occurs in the body. Hyaluronic acid, which is technically a sugar, helps the skin hold moisture, allowing it to look hydrated, plump, and smooth. When Juvederm is strategically injected into the skin, it creates volume that can correct wrinkles or depressed areas, or plump the lips.
There are a number of different kinds of Juvederm that are specially formulated to treat different kinds of cosmetic issues. These include: Juvederm Ultra XC, Juvederm Ultra Plus XC, Volbella, and Vollure. The Juvederm family of filler are a favorite of ours here at the Z Center for Cosmetic Health. The versatile nature of the Juvederm fillers make them an excellent choice for treating smile lines, under eye bags, and facial volume loss, as well as for performing lip augmentations and non-surgical nose jobs.
Like other fillers, Juvederm is a temporary cosmetic treatment. The amount of time it will last will vary per patient, but on average Juvederm can last for up to 12 months, and results can be maintained with additional treatments.
A big benefit of Juvederm and other hyaluronic acid fillers is the ability to dissolve the filler. If a patient is unhappy with the results of their Juvederm treatment, their doctor can easily reverse the treatment with a few simple injections.
Dermal Filler: Restylane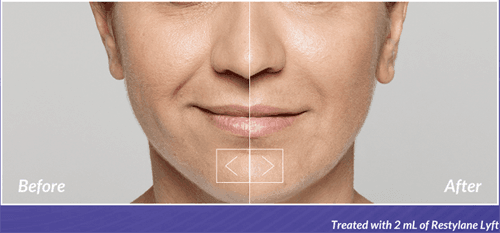 Like Juvederm, Restylane is a dermal filler made of hyaluronic acid. What makes these two fillers different is their makeup and how they perform. The formula of Juvederm makes it a bit smoother, while the formula of Restylane allows it to hold its shape a bit better. So, while these two fillers have the same active ingredient, their formulas can make one better than the other for different aesthetic goals.
Also like Juvederm, there are different kinds of Restylane that are designed for use on different areas. The popular kinds of Restylane are Restylane Silk (used on the lips), Restylane Lyft (used on the cheeks and smile lines), Restylane Refyne, and Restylane Defyne (used for areas of motion such as the smile lines).
The Restylane family of fillers can last just as long, if not a little longer than the Juvederm fillers. When used on the face, it can last up to twelve months, while in the lips it lasts for around six months. Still, the way Restylane applies can make it better for certain patients— it really depends on each person's body and goals.
Dermal Filler: Voluma
Voluma is a dermal filler made of hyaluronic acid that's specifically designed for use on the cheeks and jawline. It has a thicker formula that makes it excellent for contouring or lifting the cheeks or jaw. Because of Voluma's thicker makeup, it also lasts for quite a long time: up to 2 years. And, like other hyaluronic acid fillers, it can be dissolved if the patient is unhappy with their results.
Dermal Filler: Sculptra

Sculptra Before & After
Now, let's move on to Sculptra, the only non-hyaluronic acid filler on our list. Sculptra is often mistaken for a filler, because it can help restore facial volume. Sculptra's active ingredient is poly-L-lactic acid, which is a collagen stimulator. Collagen is a naturally occurring substance in the skin that helps it stay firm and smooth. When Sculptra is injected into the skin, it stimulates our body's own collagen growth, which helps the skin look younger and smoother.
Because Sculptra works by stimulating collagen growth, it works gradually over time. However, Sculptra lasts for considerably longer than other fillers, lasting for up to three to five years, and gives exceptionally natural-looking results.
Which Dermal Filler Is Right For Me?
The dermal filler that's right for you will depend on your unique cosmetic desires and goals. If you're considering trying dermal fillers, contact us today to schedule a consultation appointment with Dr. Zadeh.