CoolSculpting is one of the hottest new cosmetic treatments– millions of people have now used this fat freezing treatment to achieve a slimmer, more toned look. But while CoolSculpting is rapidly growing in popularity, it's still a fairly new treatment. And we've found that many people are still unsure about what CoolSculpting does, how CoolSculpting works, and what you can expect from a CoolSculpting treatment. To clear up some of the confusion around this top treatment, below we're answering all your CoolSculpting questions.
What Does CoolSculpting Do?
CoolSculpting is a non-surgical, non-invasive treatment that removes targeted fat by freezing it. CoolSculpting can eliminate stubborn fat on the body, leaving you with a more toned, slim look.
Is CoolSculpting a Weight Loss Treatment?
It's important to note that, though it removes fat cells, CoolSculpting is not a weight loss treatment. CoolSculpting is for patients who are at or near their ideal weight who want to reduce excess fat to sculpt the shape of their body.
How Does CoolSculpting Work?
During a CoolSculpting treatment, the CoolSculpting applicator applies controlled cooling to the body. This applicator targets fat cells beneath the skin and freezes them, which causes the fat cells to die off. Over the next few weeks, the body then begins to remove these dead fat cells from the body, leaving behind a slimmer and more sculpted you.
What Happens to Your Frozen Fat Cells?
After the CoolSculpting applicator freezes your fat cells, your body slowly, gradually processes and removes them. It takes around three to six months for the body to completely process and eliminate frozen fat cells. But after it does, these fat cells are gone for good.
What Areas Can CoolSculpting Treat?
CoolSculpting can remove fat cells on many parts of the body. CoolSculpting can be used on the stomach, the abdomen, the arms, the love handles, the back, thighs, the under buttocks (also known as the "banana roll"), the double chin, and on the male chest.
What Does CoolSculpting Feel Like? Is it Painful?
Everyone's pain tolerance is different, but most patients describe CoolSculpting as only minimally uncomfortable. CoolSculpting feels very cold at first. Then, the treatment area tends to become numb after a few minutes, so the discomfort from the cold tends to dissipate. During a CoolSculpting treatment, many people relax by reading, watching videos, or even napping.
How Many Fat Cells Can CoolSculpting Remove?
Each CoolSculpting session can remove 20% of the fat cells in the treatment area. Multiple CoolSculpting treatments can be done on the same area to further enhance your treatment results.
How Much Does CoolSculpting Cost?
The cost of CoolSculpting can vary greatly depending on your goals, your unique body, and the area you want to treat. Because of this, we can't give an exact quote without seeing someone in person and discussing their goals for treatment.
Note: We do sometimes run specials on our CoolSculpting treatments! Visit our CoolSculpting page to view any active CoolSculpting special offers.
How Long Does CoolSculpting Take to Work?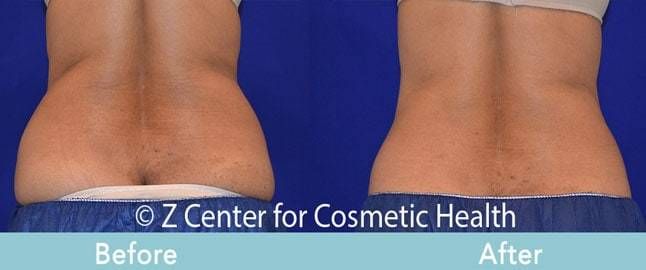 You may start to see the results of CoolSculpting as soon as 6 weeks after your CoolSculpting treatment. Then, more dramatic results then tend to appear around the three month mark, with full results at the six month mark.
Are the Results of CoolSculpting Permanent?
After a CoolSculpting treatment, your frozen fat cells are permanently eliminated. As long as you maintain your weight after getting CoolSculpting, the results of your treatment should remain stable.
How Many CoolSculpting Treatments Do I Need?
Many people need only one CoolSculpting treatment to reach their aesthetic goals. However, the number of treatments you may need can vary depending on your goals and your unique body.
Dr. Michael Zadeh is a Board Certified Surgeon and Fellow of the American College of Surgeons. Dr. Zadeh's accomplishments in the field of Surgery and Non-Surgical Aesthetics along with his commitment to superior patient care have made him a winner of multiple awards and honors.