Treating dark spots is a top reason patients visit our office. Dark spots, also known as hyperpigmentation, are a tricky skin issue. These spots are caused by an overproduction of melanin, which can result from hormones, sun exposure, acne, or aging. Regardless of the cause, dark spots sometimes can stay on our skin for months or even years. But there are many excellent treatments that can help reduce or remove dark spots on the skin. Wondering which dark spot treatment may be right for you? Read on to learn more about our top 3 dark spot treatments for skin.
Laser Resurfacing

Laser resurfacing is an excellent treatment for skin discoloration. And, in fact, a single laser resurfacing treatment at our office is often enough to remove targeted blemishes forever.
At the Z Center for Cosmetic Health, we use the Nano-Ray Laser for laser resurfacing. This advanced laser works to remove skin discoloration through the application of a specialized light. The Nano-Ray Laser's light energy pulsates into the skin and rapidly vanishes water in the skin's tissue. This leads to an almost instant removal of many skin issues, including hyperpigmentation.
The Nano-Ray Laser is a deeper treatment that is often best for those with moderate to severe hyperpigmentation. Then, it can also be a great option for those with other skin issues they would like to treat simultaneously, since laser resurfacing can also treat acne scars, stretch marks, birthmarks, moles, and fine lines.
Chemical Peels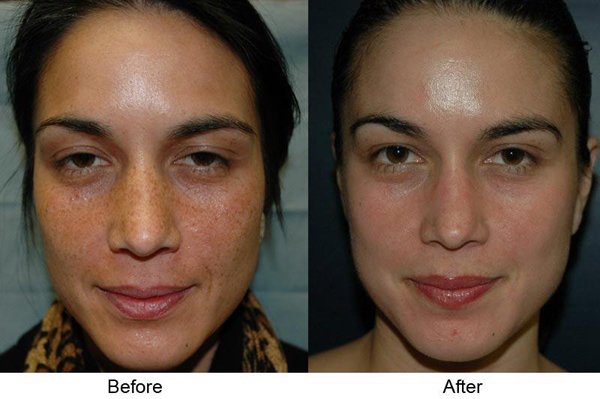 A chemical peel, like the advanced VI Peel we use here at our office, is a classic, effective treatment for dark spots on the skin. A chemical peel can reduce hyperpigmentation and improve the texture of the facial skin by removing the skin's damaged outer layers. Depending on the severity of your dark spots, it can take one or multiple chemical peels to fade dark spots.
Microdermabrasion
Microdermabrasion is an excellent, gentle treatment that is best for treating more mild to moderate hyperpigmentation. Microdermabrasion is a treatment that uses tiny particles to thoroughly exfoliate the outer layer of skin. Microdermabrasion can reduce dark spots, cleanse the skin, and stimulate new collagen growth, leaving behind smoother, clearer, more youthful looking skin.
Treat Skin Hyperpigmentation in Sherman Oaks
If you want to get rid of your stubborn dark spots, make a consultation appointment at the Z Center for Cosmetic Health today. At your consultation appointment, Dr. Zadeh will examine your skin, learn more about your treatment goals, and help you decide which dark spot treatment would be best for your unique skin.