If you want an injectable treatment that provides long-lasting, natural-looking results, consider Sculptra. Sculptra is a popular collagen stimulator that can smooth fine lines, restore lost facial volume, and firm the skin. Many people consider Sculptra to function as a filler. But unlike fillers, Sculptra doesn't just fill the skin. Instead, it helps your body create new collagen, which naturally plumps and smooths the skin. 
What is Sculptra? 
Sculptra is an FDA-approved collagen stimulator used to treat signs of aging. With strategically placed injections, Sculptra can create smoother, plumper, more youthful-looking skin. It can also be used to sculpt the face or even contour the body. 
How Does Sculptra Work? 
Sculptra is made of poly-L-lactic acid (PLLA), a bioactive and biodegradable compound that stimulates collagen production. When it's injected into the skin, PLLA signals the body to make more collagen, resulting in firmer, plumper skin.
PLLA causes the body to slowly create collagen over several months, so the results of Sculptra aren't instant. However, they are long-lasting. The results of Sculptra can last for 2 to 5 years. 
What Makes Sculptra Unique? 
Sculptra is unique among fillers because it doesn't simply fill wrinkles with an external substance the way hyaluronic acid fillers like Juvederm and Restylane do. Instead, it prompts the body to make its own natural collagen. This treats the root cause of wrinkles and skin sagging, rather than treating the symptoms. 
What Areas of the Face Can Sculptra Aesthetic Treat?
Sculptra is most commonly used to treat: 
Marionette Wrinkles Near The Chin

Facial Fat Loss

Hollowed cheeks

Hollowed Temples

Jawline 

Jowls

Nasolabial Folds (Smile Lines)

Accordion Lines below the cheeks

Wrinkles on the Arms, Knees, Elbows, and other areas of the body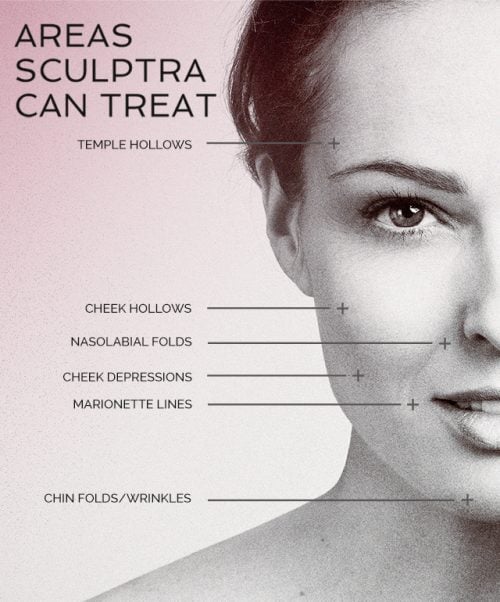 Sculptra is also sometimes used to improve the look of cellulite or as a body contouring treatment. 
What is a Sculptra Treatment Like?
Sculptra is applied over a series of injection sessions spread out over several months. At the start of each treatment session, Dr. Zadeh can apply a local anesthetic to reduce any discomfort. He'll then strategically inject Sculptra into your target treatment area. Note that Dr. Zadeh personally administers all of our injectable treatments, including Sculptra.
The length of a Sculptra treatment session will vary depending on the area being treated, but a session generally takes around 30 minutes. No downtime is needed after a Sculptra treatment. You can immediately resume your normal activities. 
How Do You Prepare for Sculptra Injections?
In the week leading up to your Sculptra treatment, avoid any medications that may cause bruising or bleeding. This includes Ibuprofen, Advil, Motrin, Aspirin, and Naproxen. 
What Should I Expect After a Sculptra Treatment? 
After a Sculptra treatment, you can immediately resume your normal activities. If you experience redness or tenderness after your treatment, apply a cold pack to the injection site for a few minutes at a time every few hours. Dr. Zadeh may recommend a specific massage regimen following your treatment, so be sure to follow his instructions to ensure optimal results. It's also important to avoid direct sunlight and heat for the week following your treatment and to follow any specific skin care recommendations given to you by Dr. Zadeh. 
When Will I See Results From Sculptra Injections?
The results of Sculptra appear gradually over the course of several months, so you won't see the effects of Sculptra right away. It can take around six months to see the full results of Sculptra. 
Sculptra at the Z Center for Cosmetic Health
If you're interested in achieving firmer, plumper, more youthful skin, contact the Z Center for Cosmetic Health today and schedule a consultation appointment. At your consultation, Dr. Zadeh will learn more about your treatment goals and develop a personalized treatment plan to help you reach them.