HAND REJUVENATION SHERMAN OAKS
You've worked hard keeping your face youthful and refreshed, so the last thing you want is for your hands to give your age away!
If you want to know a woman's age, look at her hands
The hands are often forgotten when it comes to rejuvenation procedures. However, they are one of the first areas which are noticed by others, especially when there are years between the appearance of your face and hands. Just like our faces, our hands will show the signs of aging. In some cases our hands may even make us look older than we are. As we age our hands lose fat– along with collagen– which decreases the elasticity and leads to thinning of our skin. Exposure to sun over the years causes pigment changes in the hands and results in unsightly dark spots on the back of our hands. Also, as the skin becomes loose and wrinkled, the veins and tendons of the hand become more noticeable. There used to be no easy way to combat the signs of aging in the hands. Today, however, Dermal Fillers (Juvederm, Restylane, Perlane, Radiesse, etc.) have become an excellent option for restoring the volume and smoothness that our youthful hands once had.
To schedule your free consultation, fill out the form below.
All fields are required unless otherwise noted.
Watch Dr. Zadeh Perform a Hand Rejuvenation Treatment Using Dermal Fillers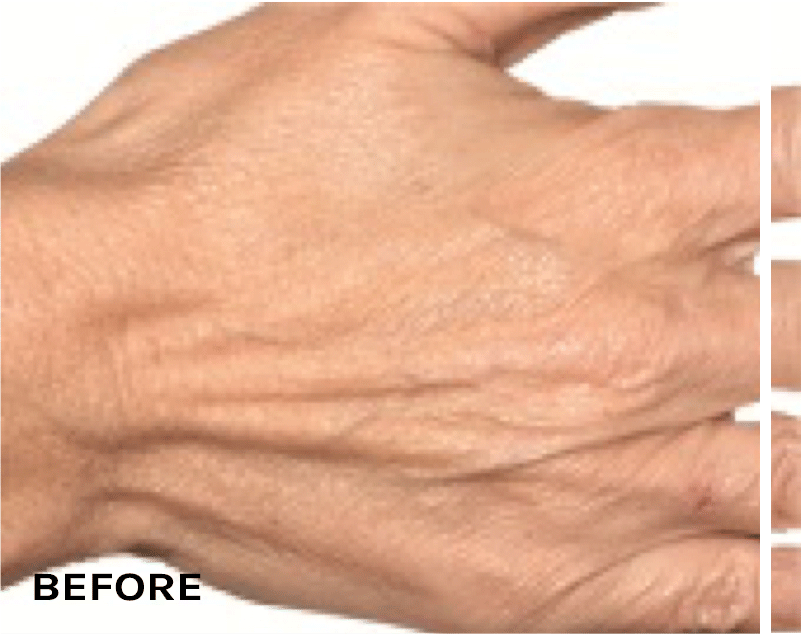 Dr. Zadeh uses a variety of dermal fillers for hand rejuvenation including Voluma, Restylane Lyft, Juvederm Ultra Plus, and more. These Hyaluronic Acid based fillers work by restoring the volume of hyaluronic acid in your skin, helping to reduce wrinkles and smooth out folds. Hyaluronic Acid (HA) is a naturally occurring sugar found in the human body. Hyaluronic acid creates volume in the skin by delivering nutrients and by holding in water, making sure the skin stays hydrated. Its function is very similar to that of a sponge–it soaks up and absorbs water–which in this case creates volume in the skin of your hands. Think of hyaluronic acid as the body's internal moisturizer!
Hand rejuvenation with dermal fillers is an affordable, non-invasive way to treat volume loss and thinning of the skin that occurs with aging. Using dermal fillers to restore the volume and smooth away wrinkles of the hands is a procedure with little discomfort and no downtime. Dr. Zadeh's microcannula technique minimizes the risk of bruising and swelling associated with the use of regular needle injections.
Feel free to call us and schedule your consultation to see if this exciting hand rejuvenation treatment is right for you.