Jawline alteration is easily one of the most in demand non-surgical treatments for 2020. We first saw a huge increase in demand for this treatment last year, and interest in jawline augmentation only seems to be growing as the months go by.

If we had to guess, we'd say there's been an uptick in interest for jawline treatment because of two things: recent advancements in technology and social media awareness. In the past, the only way you could get a more chiseled jawline was by undergoing a painful, invasive surgical procedure. But, now, there are a number of different simple, non-invasive cosmetic treatments that can help you define your jawline without you ever needing to step foot in a plastic surgeon's office. And as people share the dramatic, yet natural-looking results of their jawline treatments on social media, more and more people seem to want to try this treatment for themselves.

So, which jawline treatment are people getting in order to look healthier, slimmer, and more attractive? There's actually more than one non-surgical cosmetic treatment that can alter the jawline. The one that's right for you will vary based on what you're looking to change about your jawline. But to give you an idea of all your available options, below, we're looking at five different ways to achieve a chiseled jawline: fillers, Ultherapy, Thermitight, Sculptra, and Kybella.

Hyaluronic Acid Fillers: Define the Jawline

If you want to add definition to your jawline in order to create a more sculpted or bold look, fillers are an excellent option. Hyaluronic acid fillers are a quick, simple injectable treatment that can add volume to many areas of the face. While fillers are perhaps better known for their ability to smooth out deep wrinkles and plump the lips, they're also an excellent way to sculpt the face, since they can be used to add volume to your cheekbones or your jawline.

With strategic placement, fillers can change the shape of your jawline instantly. Fillers can correct asymmetry, strengthen certain types of weak jawlines, and change the overall shape of the jaw.

Note that fillers are a temporary treatment. Fillers can last anywhere from 6 months to 2 years, depending on the specific type of filler used. However, the results of fillers for jawline definition can easily be maintained with follow up appointments.

Ultherapy: Tighten the Jawline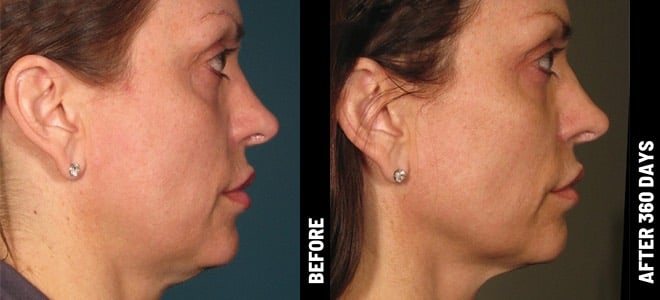 Often, a jawline may look less defined due to loose skin, which can be present due to genetic factors, aging, or dramatic weight loss. Ultherapy, a skin tightening treatment, can help correct loose skin around the lower jaw, creating a more chiseled look.

Ultherapy works to tighten the skin by causing the body to create more collagen, a naturally occurring protein that keeps our skin firm and smooth. When Ultherapy's ultrasound energy stimulates collagen growth, the treated skin will start to gradually become tighter and smoother. It takes around 6 months to see the full results of an Ultherapy treatment, since the body doesn't create collagen quickly. However, while it takes some time to see the results of Ultherapy, these results will be quite long-lasting. Many patients find that their Ultherapy results last for several years. 

Thermitight: Dramatic Skin-Tightening on the Jawline 


Like Ultherapy, Thermitight can create a more defined jawline by tightening loose skin. But Thermitight is different from Ultherapy in how it works and how dramatically it works. Thermitight tightens the skin through the application of controlled heat energy. This heat energy penetrates the skin deeply and causes dramatic collagen production, allowing Thermitight to offer the best skin tightening results of any non-surgical treatment. Depending on the setting used, Thermitight can also simultaneously reduce face fat, which offers an added benefit for those who dislike their chubby cheeks.

If you're looking to correct jowls or loose skin on your jawline, whether Ultherapy or Thermitight would be best for you generally depends on how much you'd like to tighten your skin. Thermitight is often the better option for those who have a more excessive amount of sagging skin on their jawline or neck.

Sculptra: Long-Lasting Jawline Definition 
Sculptra is a type of injectable facial filler that can define the jaw in the same way other fillers can: by adding volume to change the face shape. But Sculptra is different from other facial fillers because it's quite long-lasting. While hyaluronic acid fillers can last for 6 months to 2 years, Sculptra can last for up to 3 to 5 years.

Sculptra lasts longer than other fillers because of how it works. Hyaluronic acid fillers add volume through the application of hyaluronic acid, a hydrating molecule that the body dissolves relatively quickly. Sculptra works through the application of poly-L-lactic acid, a collagen stimulating compound, which provides longer-lasting effects.

Kybella: Reduce Excess Fat To Reveal a Strong Jawline 

Kybella is an injectable treatment that can define the jawline by reducing excess fat under the chin. If your jawline looks weak or undefined because of excess fat, Kybella can dissolve that fat, leaving behind a stronger, more chiseled-looking jawline.

Kybella, which is specifically designed to treat submental fullness (also known as a double chin), reduces unwanted extra fat by dissolving it. Kybella can permanently dissolve fat cells through the application of a synthetic form of deoxycholic acid, which is the molecule in our body that breaks down and absorbs fat. Since Kybella permanently dissolves fat cells, the results of a Kybella treatment can be permanent. Provided that you don't gain weight after getting Kybella, the results of your treatment should remain stable. 

How to Achieve a Chiseled Jawline in Sherman Oaks

If you're interested in trying one of these jaw-defining treatments to achieve a more chiseled, attractive jawline, make a consultation appointment at our office today. At your consultation appointment, Dr. Zadeh will learn more about your cosmetic concerns and aesthetic goals, and he'll examine your unique jawline. Then, he'll create a personalized treatment plan to help you achieve the chiseled jawline you've been dreaming of.

Learn more about how to define your jawline at the Z Center for Cosmetic Health.