A non-surgical nose job is a simple, effective treatment that can change the look of your entire face. This treatment, also sometimes called a non-surgical rhinoplasty, involves the strategic use of fillers. When fillers are injected into the nose, the nose can look more balanced, straight, or lifted— with absolutely no surgery required. But when should you get a non-surgical nose job? Who is this treatment for and how does it work? Read on to learn everything you need to know about non-surgical nose jobs.
Who Can Benefit from a Non-Surgical Rhinoplasty?
Non-surgical rhinoplasty can be an excellent option for those who want to create a subtle change to their nose's shape, without undergoing invasive nose surgery. There are many things that can cause us to feel unhappy with the shape of our nose. Things like bumps, asymmetry, a "hook" shape, scarring, or a drooping nose tip can all cause a great deal of emotional stress. But, luckily, all of these issues can be treated with a non-surgical nose job.
Below, see an in depth look at some of the issues a non-surgical nose job can correct.
Smoothing Humps, Bumps, or a "Hooked" Appearance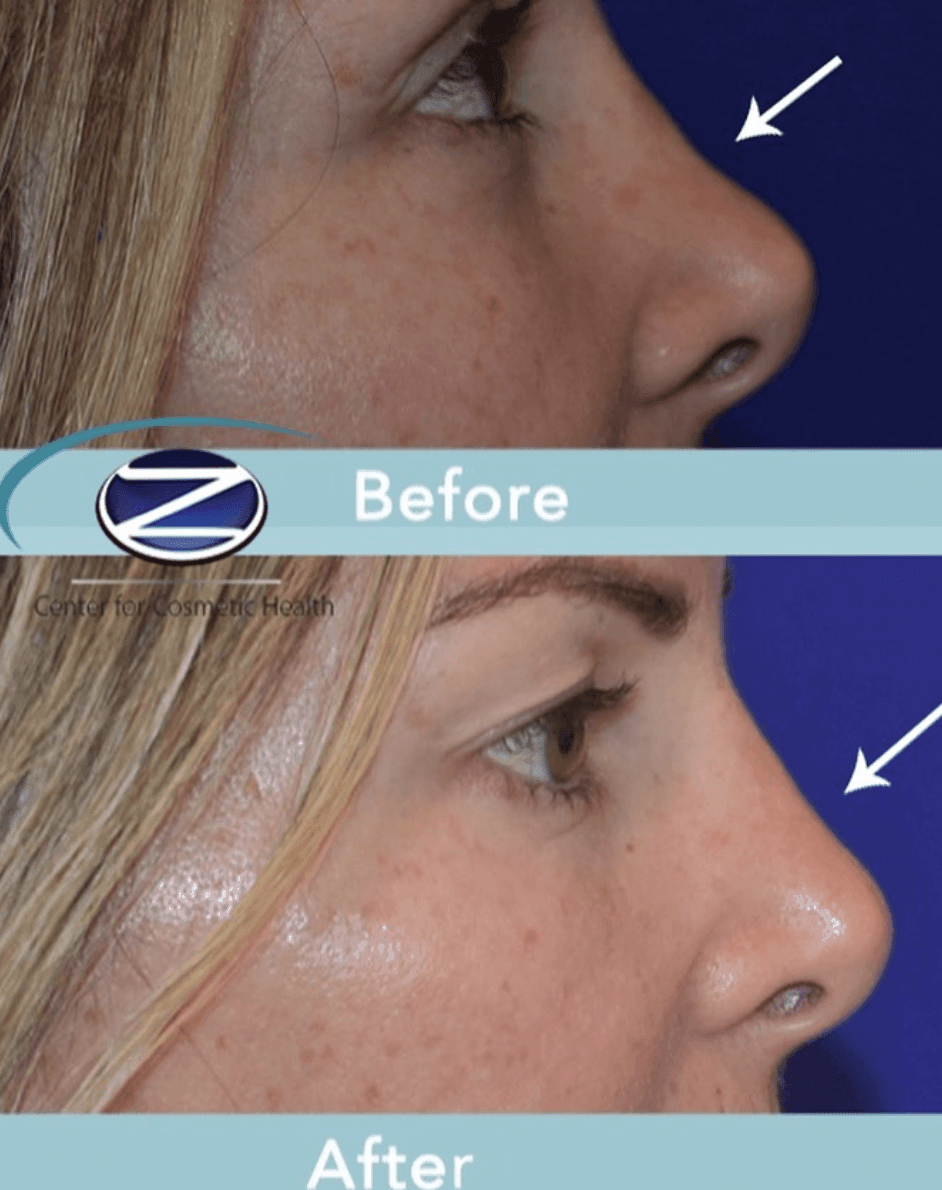 Fillers can smooth out the look of humps or bumps on the nose, giving the nose a straight, streamlined appearance. And though fillers technically add volume to the the nose, correcting a bump can actually make the nose look considerably smaller. When the nose blends in more seamlessly with the rest of the face, it's less noticeable and, therefore, looks smaller.
Correcting a Drooping Tip
Fillers can correct a drooping nose tip by changing how the nose "sits." When applied strategically to other parts of the nose, fillers can pull up the lower part of the nose.
Filling Depressions
A non-surgical nose job can smooth out depressed areas on the nose, including depressions caused by scarring.
Correcting Asymmetry
Fillers can be used to correct an asymmetrical nose shape, creating a more balanced appearance.
Correcting Irregularities From a Previous Nose Surgery: Some patients come into our office complaining that they are unhappy with the results of a traditional rhinoplasty they received elsewhere. One of the most common complaints after getting rhinoplasty is that the tip of the nose now looks "pinched." Another common complaint is that the nose now looks uneven. A non-surgical nose job can be used to subtly correct these issues, without having to undergo a second invasive surgery.
Non-Surgical Nose Job vs. Traditional Rhinoplasty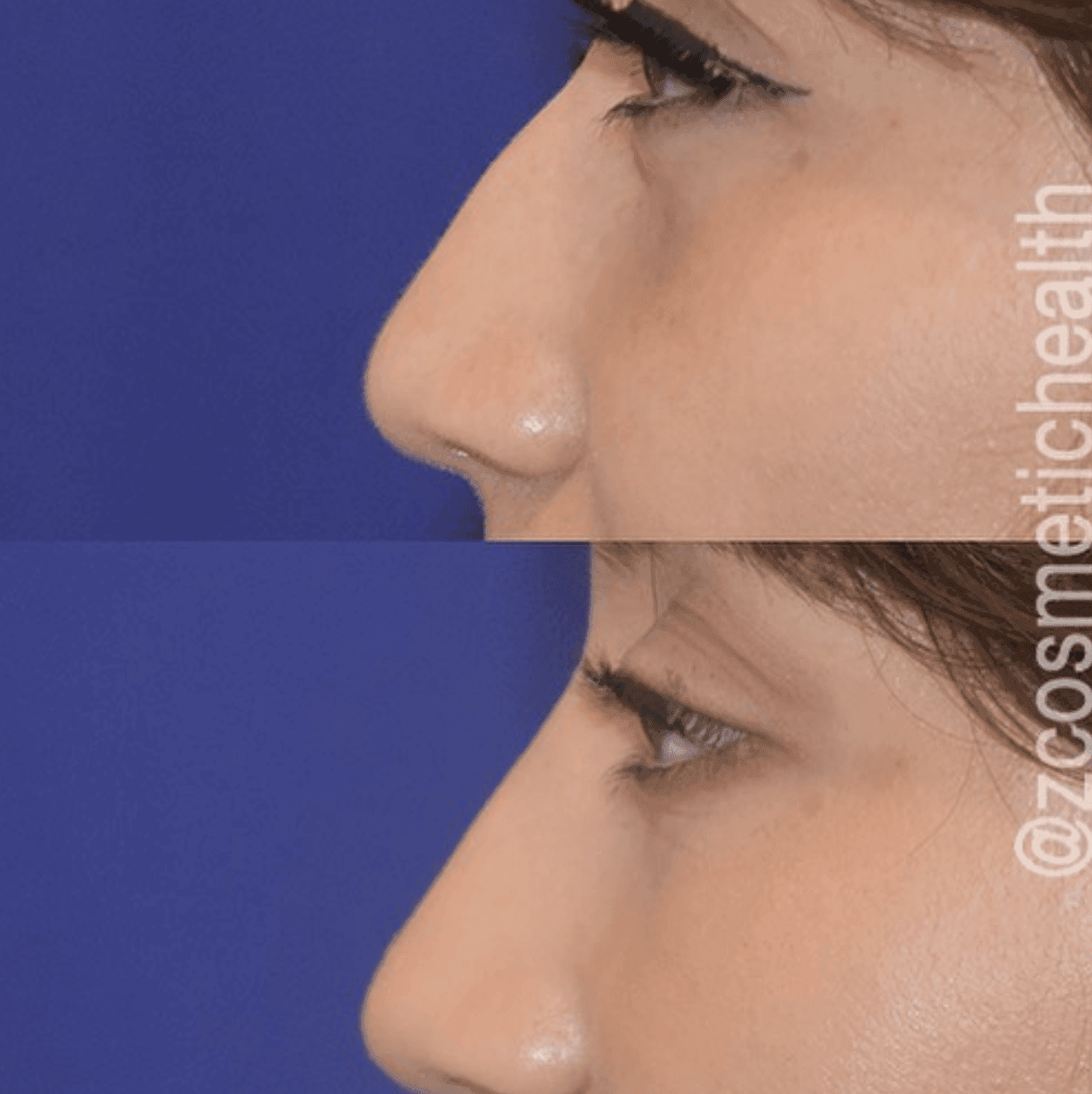 A non-surgical nose job is different from traditional rhinoplasty in numerous ways. Unlike rhinoplasty, a non-surgical nose job is completely non-invasive, requires absolutely no downtime, and does not come with the risks associated with surgery. A non-surgical nose job also allows for much more precise shaping, which leads to more detailed results. Additionally, non-surgical nose jobs can be reversed if the filler used was a hyaluronic acid filler, which is easily dissolved. (Note: Dr. Zadeh uses a hyaluronic acid filler, Juvederm Ultra Plus XC, for non-surgical nose job treatments.)
Another thing that makes a non-surgical nose job different from traditional rhinoplasty is how quickly you will see results. The results of a non-surgical nose job can be seen instantly. While, on the other hand, the full results of surgical rhinoplasty take quite a while to appear. It takes around six months to see the full results of an internal approach rhinoplasty or up to two years for an external approach rhinoplasty.
Non-surgical nose jobs can be used to treat a wide range of mild to moderate cosmetic issues. But there are some things that can't be done with a non-surgical nose job. Non-surgical nose jobs cannot be used to shrink the overall size of the nose, narrow wide nostrils, or correct major nasal deformities. Patients with these issues will not benefit from a non-surgical nose job and may instead need to consider surgical rhinoplasty.
What to Expect When You Get a Non-Surgical Nose Job
A non-surgical nose job is a fast and simple treatment. At our office, Dr. Zadeh uses Juvederm Ultra Plus XC for non-surgical nose jobs. This filler contains the local anesthetic lidocaine, which provides a more comfortable injection experience. It also eliminates the need for separate injections that would numb the nose, which speeds up treatment time. It takes only around 15 to 20 minutes for a non-surgical nose job treatment, making it something you could easily do on your lunch break. Then, there's no downtime needed after a non-surgical nose job; you can immediately resume your normal activities.
In addition your treatment appointment, you'll also come in for two other other appointments: a consultation appointment (before your treatment) and a follow up appointment (after your treatment). At your consultation appointment, Dr. Zadeh will examine your nose, listen to your cosmetic concerns, then develop a treatment strategy for your non-surgical nose job appointment. At your follow up appointment (which will be scheduled for three weeks after your treatment), Dr. Zadeh will evaluate the results of your treatment. Then, if necessary, he may administer touch up injections to ensure optimal results.
The results of a non-surgical nose job can be seen immediately and last for about one year. These results can be maintained over time with annual follow up appointments.
How Much Does a Non-Surgical Nose Job Cost?
The cost of a non-surgical nose job can vary. This is because the price of the treatment is based off of how many units of dermal filler will be needed for your custom treatment. On average, a non-surgical nose job can cost around $800 to $1,500. This average cost is 90% less than the cost of a traditional surgical rhinoplasty.
Make an Appointment for a Non-Surgical Nose Job
If you're interested in getting a non-surgical nose job, contact us today to schedule a consultation appointment.
Dr. Michael Zadeh is a Board Certified Surgeon and Fellow of the American College of Surgeons. Dr. Zadeh's accomplishments in the field of Surgery and Non-Surgical Aesthetics along with his commitment to superior patient care have made him a winner of multiple awards and honors.