ThermiSmooth and Ultherapy are both excellent non-surgical anti-aging treatments. But if you're starting to see skin sagging, wrinkles, or fine lines, which one should you get: ThermiSmooth or Ultherapy? While ThermiSmooth and Ultherapy are both anti-aging treatments, they work differently and treat different signs of aging. So the treatment that may be right for you will depend on type of aging you're experiencing.
To help you decide between ThermiSmooth vs. Ultherapy, we've written this comparison guide for these two anti-aging treatments. Read on to learn more about how these treatments work, what they treat, and the main difference between ThermiSmooth vs. Ultherapy.
About ThermiSmooth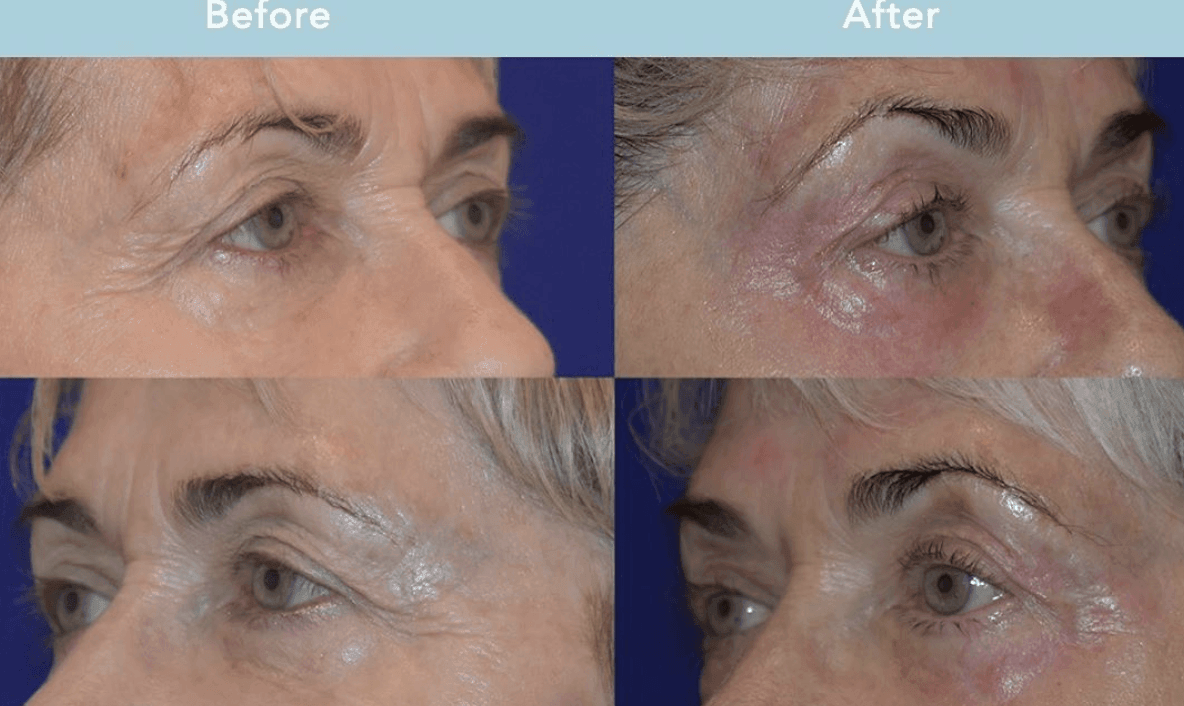 Uses: Radiofrequency Energy
Best For: Diminishing Fine Lines and Wrinkles (Especially in Delicate Areas Like Around the Mouth or Eyes), Lifting the Brow, Lifting Drooping Skin Around the Eyes, Improving Skin Texture
ThermiSmooth is a non-surgical treatment that uses radiofrequency energy to lift and smooth the skin on the face. When ThermiSmooth's radiofrequency energy is applied to the face, it heats the surface of the skin, which causes it to tighten. The way ThermiSmooth works makes it an excellent choice for diminishing fine lines and wrinkles that appear on the forehead, eyes, cheeks, neck, and mouth. ThermiSmooth can also help lift the brow (giving a non-surgical brow lift) and can help lift drooping skin around the eyes.
What Getting ThermiSmooth is Like
ThermiSmooth is a non-invasive, pain-free treatment that takes only around 15 to 30 minutes per session. At the beginning of a ThermiSmooth treatment, a gel will be applied to your face. Then, the ThermiSmooth applicator, which delivers radiofrequency energy, will be moved in circular motions on your face. You can immediately resume your normal daily activities after getting ThermiSmooth (no downtime is needed).
Generally, patients need 3 to 4 treatments (each spaced 3 weeks apart) to achieve optimal results from ThermiSmooth. You can see the initial results of this treatment immediately following your first treatment. Then, the full results of ThermiSmooth will appear in the several months following your final treatment.
About Ultherapy
Uses: Ultrasound Energy
Best For: Lifting the Skin on the Face, Neck, or Chest
Ultherapy is a non-surgical treatment that uses ultrasound energy to lift and tighten the skin on the face, neck, or chest. When Ultherapy's ultrasound energy is applied to the body, it penetrates deeply into the skin and stimulates collagen growth. When the body creates more collagen in our deep skin, it causes the skin to lift, tighten, and firm. The results of Ultherapy have earned this treatment the nickname "the non-surgical face lift." While Ultherapy can't replace the results of a surgical face lift, it is a great option for those who want to achieve an uplifted look without undergoing surgery.
What Getting Ultherapy is Like
Most patients need only one Ultherapy treatment to achieve lasting results. During an Ultherapy treatment, an ultrasound gel will be applied to your face or neck. Then, the Ultherapy wand will be applied to your face or neck for around 30 to 90 minutes. The Ultherapy wand delivers ultrasound energy deep into the skin, stimulating collagen production. After an Ultherapy treatment, no downtime is needed.
The results of Ultherapy appear gradually, since this treatment works by stimulating the body's own collagen growth. Initial results can be seen as early as 3 months after treatment, while full results can take around 6 months to appear.
The Difference Between ThermiSmooth vs. Ultherapy
The main difference between ThermiSmooth and Ultherapy is how they treat the skin, which changes each treatment's results.
ThermiSmooth treats the surface skin, which makes it a great option for those who want to smooth and tighten the surface of their skin. ThermiSmooth is an excellent option for anyone who wants to reduce the appearance of their fine lines and wrinkles. Additionally, it can help to reduce drooping eye skin, lift the brow, and improve overall skin texture.
Ultherapy treats the deep skin, which lifts the skin and restores a more youthful, lifted look. Ultherapy is specifically designed to lift the skin in a way that more surface-focused treatments (like ThermiSmooth) cannot.
ThermiSmooth vs. Ultherapy: Which One Should You Get?
If you're still unsure which of these anti-aging treatments would be right for you, make a consultation appointment at the Z Center for Cosmetic Health today. During your consultation appointment, Dr. Zadeh will examine your skin, listen to your cosmetic concerns, and create a treatment plan tailored to your exact aesthetic goals.