There is no doubt that one of the most popular cosmetic treatments in the world right now is lip augmentation. Dermal fillers are the various kinds of injectable chemical solutions that patients have to their lip, mouth, cheek, and under eye areas to reduce the appearance of wrinkles and fine lines across the face. 
While the science behind dermal fillers has long been established and the process is almost as common in certain places as a visit to the dentist or the nail salon, the increasing problem that some are starting to encounter is not knowing which dermal fillers they should be choosing.
Due to their massive popularity, the dermal filler market has become incredibly saturated over the last few years, meaning a trip to the cosmetic surgeon isn't quite as simple as asking for a lip filler procedure and being done with it. The extra step in the process now involves discussion with your surgeon on which type of filler you would like to have injected into your face. You have probably heard of Botox before, maybe even Juvederm, but if you were asked, would you be able to talk about and highlight the differences between these various lip enhancement treatments?
With all of this in mind, we are here to help you wade through the tricky waters of this trendy cosmetic procedure. Let's take a closer look at lip augmentation and ask the question, which is the best lip filler in the world right now?
How Does Lip Filler Work?
If you want full lips like Angelina Jolie or to rival the Kylie pout, lip fillers are the treatment of choice. Lip fillers work on places like the upper lip and vertical lip lines because the solutions that are injected into the areas firm up under the skin to give it a more youthful and plumped-up appearance.
As we age, our skin starts to lose the ability to produce collagen, and collagen is the thing that keeps our complexion vibrant with fuller lips and a natural look.
Essentially, what filler does for your face is to replace all of the collagen and fat that has been lost around the lip area. This reduces the appearance of wrinkles and fine lines and provides complete rejuvenation of the injected area. You finish the treatment looking and feeling like the area is plumper and the pout is stronger.
What Are The Reasons To Have Lip Fillers?
There are many different reasons why a person chooses to add lip fillers as part of their regular skincare routine.
Your

lip area

might be aging at a faster rate than the rest of your face, leaving you feeling self-conscious about that part of your body. There is nothing wrong with

plastic surgery

plumping

to fix this.

Put simply, getting something like

Juvederm Ultra XC

is one of the simplest kinds of cosmetic surgery that you can have. It is about as non-invasive as it gets while still being immediately effective, and it is super quick to administer and you have the assurance of

FDA

research and approval.

Ask any

dermatologist

and they will tell you that

dermal fillers

have an excellent safety record. You don't need to worry about

hyaluronic acid fillers

for the

first time

in the same way that you might worry about

liposuction

, for example. It is a far less invasive procedure.

Importantly,

injectables

like

Restylane Refyne

and

RHA3

are only temporary, which means that any

side effects

or unfortunate results will disappear over time and enable you to experiment next time with a different brand or procedure.
Is There Anything to Worry About?
Any cosmetic intervention whether it's surgical or topical has risks. It is just as important to know of these risks as it is for expected downtime whether you're having liposuction or Juvederm Volbella XC. 
Common side effects which should only last a few days are: 
Swollen and bruised lips

Tenderness and redness at the injection site

Bleeding at the injection site

Any existing virus such as herpes simplex or cold sores may be reactivated
More serious risks include:
Allergic reaction

 

Irregularities and lumps in the lips

Prolonged bruising and swelling (lasting for more than a week) or extreme swelling

Filler not dispersing correctly causing an asymmetrical lip profile

Infection

Scarring, ulceration, or stiffening of the lips

Vascular occlusion or disruption of the blood supply to the lips
If you experience any of these symptoms, contact your cosmetic center/doctor immediately. 
On the whole, though, lip fillers have a proven track record as a safe procedure.
Which Lip Filler Works Best?
With so many to choose from, which lip filler is considered to be the best by plastic surgeons all over the world? Let's take a look at the most popular filler options.
Juvederm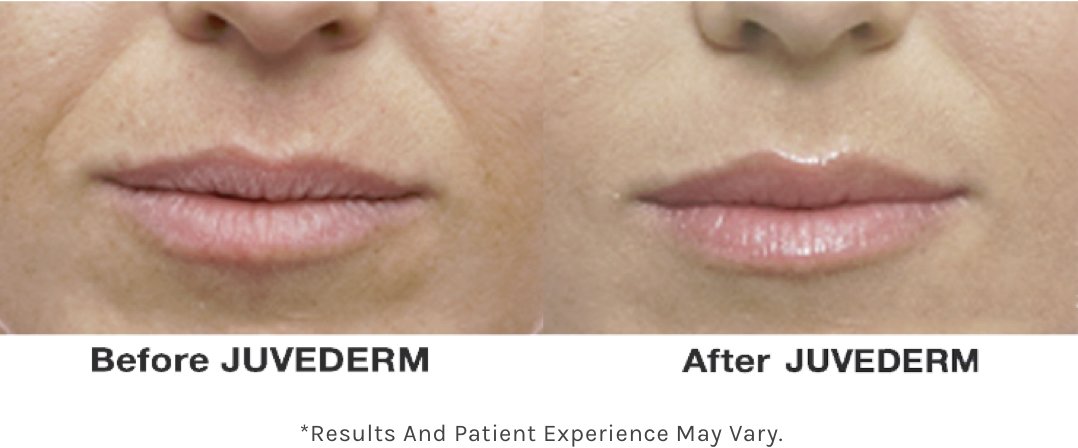 Juvederm is an incredibly popular filler all over the globe. It is designed to restore facial contours and improve any visible signs of aging. It is an injectable product that has a hyaluronic acid base, something that is tried and tested for the very best in lip injections.
Restylane
Restylane is a popular injectable filler that is specifically designed for use on small to medium lines and wrinkles in the face. It fills out the volume of the sagging areas while at the same time attracting additional water to the area under the skin, resulting in a younger, smoother look.
Both of these brands produce a range of fillers under the general umbrella names of Juvederm and Restylane. Not every product is suitable as a lip injector but your cosmetic surgeon will understand the differences across the individuals within the family and be able to recommend the most appropriate one for your treatment.
In general terms and according to experts at establishments like the Z Center for Cosmetic Health, Juvederm is generally considered to be the best of the fillers within the dermatology community, but something that should be noted is that others say Restylane is specifically better for the lips. 
Juvederm often wins out because there are many more options within the Juvederm brand, options that can have different effects on areas like the nasolabial folds. The consensus is that the best kind of filler injection at the moment is a Juvederm lip closely followed by Restylane.
How Long Does Lip Filler Last?
How long lip fillers last depends on several factors including what brand of filler you get, how many injections you choose to have, and the location on your face of the injection.
It is important to remember that lip fillers are not a permanent solution to your fine lines and wrinkles, but rather an enzyme-based temporary fix.
A full course of fillers is likely to last anywhere between 6 and 18 months. This is, of course, dependent on individual circumstances. Some patients will find themselves needing a top of Juvederm, Restylane, or RHA much sooner than others, and on the other end of the spectrum, some people will be able to go much longer.
What Is The Difference Between Restylane and Juvederm?
So now that we have established that Juvederm and Restylane are the most popular two lip filler options on the market right now, what are the differences between the two brands? Or are there even any differences at all?
The biggest difference between Juvederm and Restylane is the texture of the two products. You will notice that Restylane is a much more granular and cohesive solution compared to Juvederm, which has a much familiar smooth, liquid texture.
The difference in these textures translates into differences in their final results. The smoothness of Juvederm means that it will immediately get to work in decreasing the appearance of finer lines, while the more cohesive properties of Restylane mean that it will stay in place for a much longer time. In some ways, it becomes a choice between visual impact or longevity.
It should also be said that Juvederm and Restylane do have different target areas in terms of effective treatment. Although Juvederm is used for lip augmentation, it is a more general filler and can be used on the eyes, cheeks, and mouth. Restylane has two formulations specifically for the lips. 
Something that the two options share in common is the average cost, which is very similar, but another area where they differ is definitely in the time taken for results to come through. With Juvederm, the smoothing of wrinkles is almost instant, whereas the thicker texture of Restylane takes a little more time to settle in the face and produce its results. Once finished, however, both options are perfect for the face.
The Takeaway
Various filler types are available and although Juvederm is the front runner, a cosmetic surgeon may recommend an alternative such as Restylane.
Before deciding on lip augmentation, arm yourself with the facts to enable you to make an informed choice, remembering that the results are not permanent and you may need to commit to years of injections if you want to maintain a certain look.