When it comes to predicting trends in any sector of the modern beauty industry, the truth is that they are all the same as they were ten, twenty, thirty, and even forty years ago! We are talking, of course, about the continued popularity and success of everything to do with anti-aging.
The desire to try to turn back the clock and restore a youthful appearance is something that you see in toiletries, beauty products, spa treatments, cosmetic treatments, and cosmetic surgery all over the world. Most are focused on facial care as it is the face where the signs of aging are most prevalent with masses of treatments available to address skin care concerns.
There are a lot of issues to be addressed when it comes to signs of aging including
reduced

collagen production

(a natural occurrence that is one of the major factors of the

aging process

)

lack of

elasticity

(due to reduced

collagen

and elastin)

facial wrinkles

and

fine lines

including

smile lines

,

marionette lines,

and

laugh lines

volume loss

leading to

creases

and sagging

nasolabial folds

skin damage caused by

sun exposure
The common cosmetic surgery to address these issues is a facelift but there are also non-invasive topical treatments that are hugely popular. The most common way of treating the full range of issues mentioned above is by introducing volume into specific areas.
The aforementioned desire to tackle signs of aging has stimulated the cosmetic beauty industry to produce a wide range of injectable treatments. Started by Botox, numerous brands of dermal fillers are now available.
One brand with a proven track record of restoring a youthful look is Restylane.
FDA-approved Restylane fillers are increasingly popular and are one of the most trusted filler treatments due to their success in youthful enhancement with long-lasting, natural-looking results.
Let's take a look at some of the leading reasons why you might be a good candidate for Restylane treatments and how they could achieve your aesthetic goal of natural-looking facial rejuvenation.
What Is Restylane?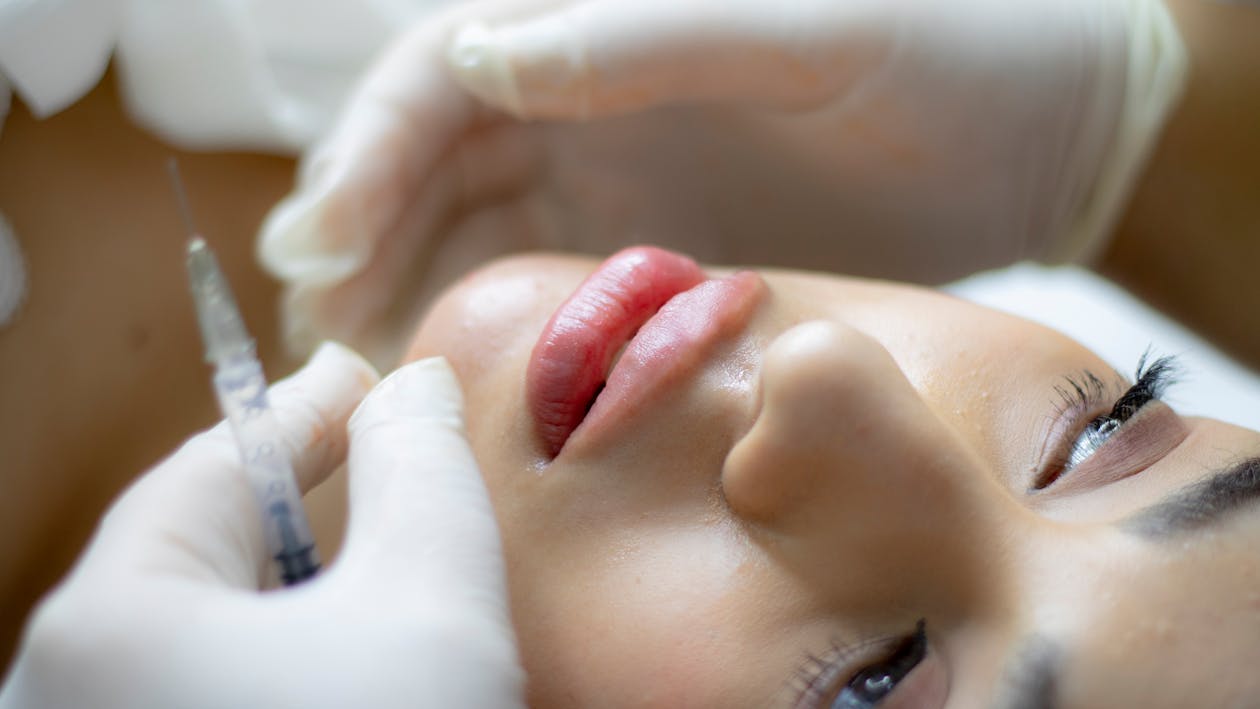 Restylane is a type of gel dermal filler made from hyaluronic acid. When injected into the skin, it begins to absorb the bodily moisture near the injection site.
The gel works by holding onto the water molecules and making them expand underneath your skin mimicking the effect of how naturally occurring hyaluronic acid is kept in your face, making it plump and wrinkle-free.
The extra moisture introduced by the Restylane injections has a positive effect on the look and texture of your skin. Along with filling in sunken areas and wrinkles, it produces a more supple, soft overall appearance that looks more youthful. It is like applying a layer of beneficial moisturizer on the inside rather than the outside!
Who Is Best Suited to Restylane Treatments?
Research has shown that Restylane is most effective when used to soften and fill medium-set facial wrinkles, as well as creases and laugh lines around the mouth.
Along with filling in the wrinkles, it also works very well in helping to plump up under the eyes, the cheeks, and the lips.
Restylane is also a good treatment to rejuvenate hands that are showing signs of age. Over time, the hands lose fat and gain wrinkles. Restylane can be used on the hands to restore youthful volume.
One of the downsides of some dermal fillers (such as Botox) is that they interrupt the nerve signals from muscles to the brain, effectively freezing the muscles. Because Restylane only adds moisture and volume to the surface under the skin, you will still be able to make all the regular facial expressions.
Ultimately, if you're looking for fast results from a non-invasive treatment, Restylane is a good option.
You are not suitable for Restylane if you are allergic to the proteins from which the filler is made. Also, if you are allergic to lidocaine, your surgeon will need to source lidocaine-free Restylane.
Benefits of Restylane
We've already stated that it is an effective, non-invasive treatment and therefore attractive to anyone who does not want a surgical procedure. It can address a wide range of aging issues and with a few exceptions, Restylane is suitable for everyone, but there are other benefits.
There is Very Little Downtime
With any invasive cosmetic surgery, a significant amount of recovery time may be required before you can resume your normal day-to-day activities.
Some surgical procedures can take up to several months for the final results to be seen and in the meantime, you may be covered in bandages or have to undergo ongoing care and maintenance until your 'new' face is revealed.
With Restylane, the worst that you can expect is a small amount of tenderness, redness, or bruising at the injection sites. This can be easily covered by makeup rather than you having to stay home to recover.
There is Minimal Maintenance
When you undergo certain beauty treatments like eyelash extensions, hair coloring, or false nails, regular maintenance is required. Not so with Restylane. After the first injections, you don't need to visit your surgeon for a touch-up for another 6 to 12 months depending on the extent of the treatment.
The time lapse between treatments depends on how fast your body breaks down the Restylane gel and the area treated. For example, the area around the mouth moves more than the forehead and therefore gel here may begin to break down faster.
In general, lip augmentation injections tend to last between 4 and 6 months, mouth wrinkle injections about 6 months, and eye area injections 12 months.
Another benefit is the fact that Restylane treatments will, over time, help to increase the level of natural collagen in the face which will help extend the time between visits.
No Animal Products are Used
As people grow increasingly eco-conscious, the prevalence of products not using anything from animals continues to rise.
There is still a view (erroneously) that Botox comes from cows but Restylane has no association with the animal kingdom at all. Other types of dermal fillers are made from laboratory-grown bacteria and some people are not happy about introducing foreign matter into their bodies.
The hyaluronic acid used to make Restylane is a naturally occurring sugar.
Make Sure That You Visit A True Professional
It must be stressed how important it is that Restylane injections are performed by a licensed and well-reputed professional.
There is an unfortunate 'unregulated' corner of the cosmetic industry that offers great results for super low prices, and this should always be treated as too good to be true. It might be tempting to opt for a less expensive, knockoff product, but there is a high risk of allergic reactions and serious side effects.
If you are looking for Restylane injections, at the Z Center for Cosmetic Health all filler injections are performed by board-certified surgeon, Dr. Michael Zadeh. Our website explains the process and also the various Restylane products including Restylane Silk, Restylane Lyft, Restylane Contour, Restylane Kysse,  Restylane Refyne, and Restylane Defyne. The skincare experts can also advise on skincare products that will help maintain your youthful appearance between treatments.
Contact us today to see if Restylane Filler injection is right for you!