Thinking about getting CoolSculpting? Or are you wondering what CoolSculpting is? CoolSculpting is a revolutionary new treatment that eliminates fat without surgery. It works by freezing targeted fat cells and causing them to die off, noticeably reducing fat bulges. It takes around an hour, doesn't require any anesthesia or pain medication, and leaves patients with natural-looking results.
One of the secrets to the effectiveness of this targeted fat reduction is the use of specialized applicators. At Z Center for Cosmetic Health, we have every applicator which has been developed for the CoolSculpting device. These different specialized types of CoolSculpting applicators are designed to target certain areas. Wondering which applicator is best for certain areas or which might be right for you? Let's take a look at each applicator's specialty.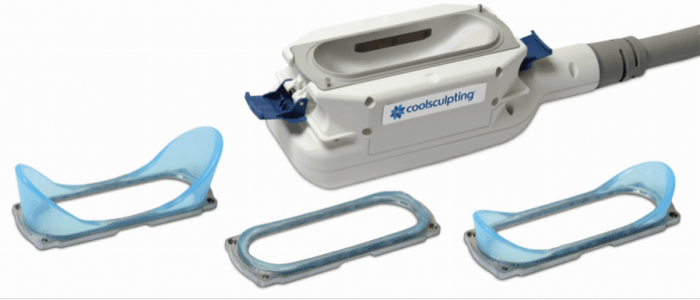 CoolAdvantage
 The CoolAdvantage applicator is a new CoolSculpting applicator that has many benefits. It's a versatile applicator that can be used to treat many areas, including stubborn inner thigh fat. CoolAdvantage takes less time than other applicators (35 minutes instead of 60) and is more comfortable, with less pain and bruising. This is a great choice for clients who seek these benefits.
CoolSmooth
 The CoolSmooth applicator is a specialized applicator that is designed to treat the outer thighs. This applicator also offers additional comfort for the patient, as it is a non-suction applicator.
CoolCurve
 The CoolCurve applicator is designed to treat areas of the body with more curvature (hence the name CoolCurve). This applicator is the best choice for those seeking to freeze away love handles or the area under the arms (the area where a bra might dig into unwanted fat).
CoolCore
 The CoolCore applicator is our most popular applicator. This applicator can treat a wide variety of areas; it is the most versatile of all the CoolSculpting applicators. While CoolCore can treat many areas, it is an especially popular choice for abdomen fat removal.
CoolMini
 The CoolMini applicator is used for smaller areas of treatment. This is the applicator of choice for those seeking to target a double chin or remove small fat pockets under the arms.
CoolMax/CoolAdvantage Plus
 The CoolMax applicator is very effective at removing larger pockets of fat. The main use of this applicator is on the abdomen for those seeking to reduce a large amount of fat.
CoolFit
The CoolFit applicator is a flat applicator that is excellent at removing fat on the arms and inner thighs.
There you have it: the seven specialized CoolSculpting applicators that can help you freeze your fat. Are you thinking of getting CoolSculpting? Or wondering which applicator would be the best fit for your needs? Call us today to set up a consultation with Dr. Zadeh to see if CoolSculpting is right for you and discuss your personalized treatment plan.