"Smoker lines" is a term that refers to those pesky fine lines that begin to form around the mouth as we age. While smoking can speed up the appearance of smoker lines, you don't have to have been a smoker to get these wrinkles. They can be caused by other repetitive actions (including drinking from straws), genetics, or aging. Smoker lines are very frustrating, especially for those who get them when they are younger. Though these lines are small, they're commonly very stressful for those who get them. However, whether these lines appear when we're younger or at a more advanced age, they can be treated. If you're wondering, "how do I get rid of smoker lines," this post is for you. In this post, we're talking a closer look at what causes smoker lines, then highlighting two types of dermal fillers that can drastically reduce the appearance of smoker lines: Belotero and Restylane Silk.
What Causes Smoker's Lines?
If you are a smoker or a former smoker, the repetitive motion of smoking could cause the fine lines around the mouth known as smoker's lines. However, unfortunately, smoking is not the only thing that causes smoker's lines. So what else causes these lip wrinkles?
For one thing, other repetitive motions can cause the same vertical lines smoking does. Things like drinking through a straw or making repetitive facial expressions can cause lines to form more quickly around the mouth. Also, many people do facial exercises that are said to "reduce wrinkles." However, many (if not most) of these facial exercises actually cause even more wrinkles due to repetitive motion.
Another thing that can cause these vertical lines is aging. After around age 20, we begin to produce less collagen, which is a substance in the body that keeps our skin looking firm and smooth. Each year after this age, our body decreases its collagen production, which causes our skin to become thinner and less firm, increasing the chance of wrinkles. This is true for the skin across the entire body, including around the mouth.
After a certain point in the aging process, everyone will have lines around their mouth, especially around the upper lip. However, some people show this sign of aging more quickly, which can be due to one or both of these two factors: genetics and sun damage. Genetics are something that can't be helped— but sun damage can.
Time catches up to all of us, but sun exposure can drastically speed up the aging process. When our skin is exposed to the sun's harsh rays, our skin cells are damaged. And while the skin on our lips is extraordinarily delicate, many people neglect to add lip sunscreen to their skin care routine, which means the lips are often unprotected.
Also, as we age, our skin produces less oil, which can lead to chronically dry skin. And if the skin is dry, it can be more at risk of damage from the sun, which can speed up the aging process even further.
Because sun damage speeds up the aging process, it's important to always remember to use sunscreen in your skin care routine. Whether you already have smoker lines or are concerned about getting them in the future, sunscreen is a vital tool in your anti-aging arsenal and it's never too late to add it in. Though sunscreen won't get rid of smoker lines (we'll talk about what will in a moment), it can prevent further sun damage and help slow the appearance of smoker lines.
Now that you know all about what causes smoker lines, let's talk about how to get rid of smoker lines.
How Do I Get Rid of Smoker Lines?
Treatment #1 – Belotero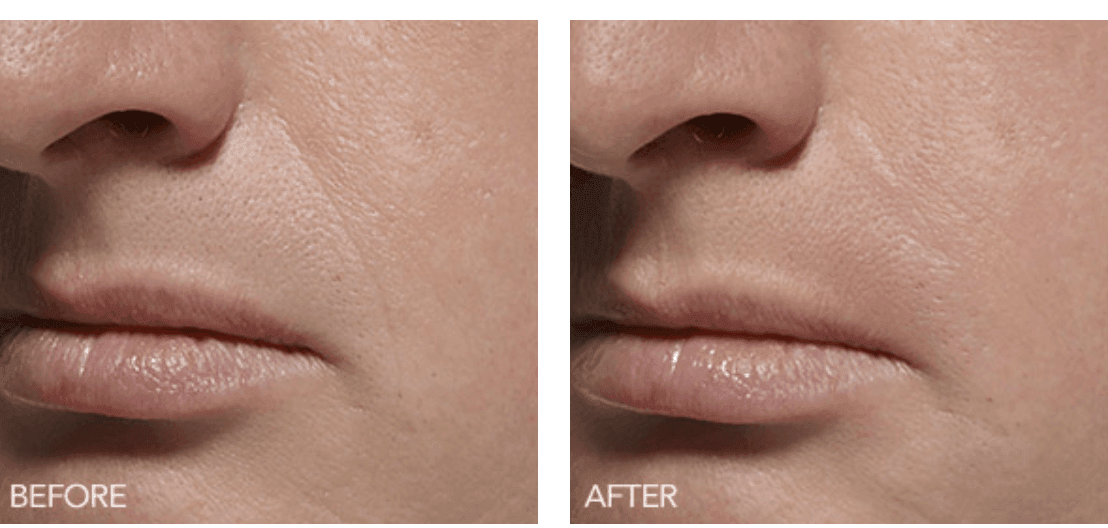 Belotero is a versatile filler that is excellent for filling a number of different types of wrinkles or depressions, including smoker lines. Belotero is made of a specialized version of hyaluronic acid that is strong enough to fill stubborn wrinkles, yet soft enough to look natural even on smaller wrinkles like vertical lip lines.
Belotero also produces instant results. After receiving Belotero, which is an injectable filler, you will see results right away and these results usually last for about six months or more. If you'd like to maintain the results of Belotero, you can schedule regular maintenance appointments to upkeep your results.
Treatment #2 – Restylane Silk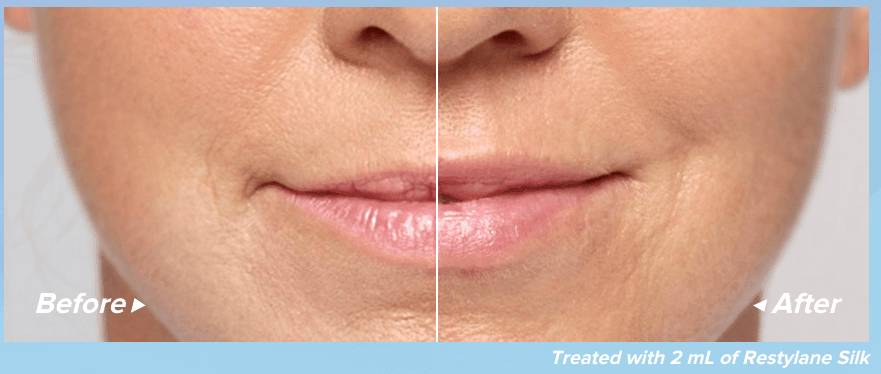 Restylane Silk is another hyaluronic acid filler that is excellent for treating smoker lines. Restylane Silk, is an injectable filler that can plump, smooth, and add volume to the skin. Restylane Silk is commonly used to treat smoker lines. It can also be used to provide a subtle and natural lip enhancement.
Like Belotero, the results of Restylane Silk are seen immediately. The results of Restylane Silk can last anywhere from six months to a year and these results can be maintained with follow up appointments.
Other Ways to Get Rid of Smoker Lines
Belotero and Restylane Silk are two of the best treatments for smoker lines. These cosmetic procedures are both excellent options that can reduce or eliminate the appearance of smoker lines— even deeper smoker lines— immediately. However, these two treatments aren't the only possible treatments for smoker lines.
For those with lighter smoker lines, chemical peels and specialized facials can be good options that will help to reduce the appearance of smoker lines. Other possible treatments can include microneedling, laser treatments, and microdermabrasion. While fillers like Belotero and Restylane Silk are great treatments for smoker lines, you may also find that one of these other treatments works for you, especially if your smoker lines are not yet deep or pronounced. Additionally, sometimes the best treatment for smoker lines can be a combination of treatments.
Everyone's body is unique, as are their aesthetic goals. If you'd like to know the best way to get rid of your smoker lines, Dr. Zadeh can discuss all your options with you during your consultation appointment.
Want to Get Rid of Your Smoker Lines?
If you're struggling with the appearance of smoker lines, contact the Z Center for Cosmetic Health today to make a consultation appointment. At your appointment, Dr. Zadeh will examine your skin and help you decide which type of treatment would work best for you.