You have probably heard of facial peels and chemical peels but you may not be so familiar with another member of the family, the VI peel.  A VI peel treatment is something that has blown up in popularity over the last few years, with plenty of wellness experts and dermatologists celebrating it as one of the best types of advanced skin treatments currently available. Let's take a closer look at what a VI peel is, and whether or not the treatment is right for you given your skin type, skin tone, skin texture, and other important factors.
What Is A VI Skin Peel?
A VI peel (which stands for Vitality Institute), is a type of chemical peel designed to help improve skin tone and skin texture. It is a practical solution that includes a host of beneficial ingredients like salicylic acid, trichloroacetic acid (TCA), vitamin c, retinoid acid (vitamin A), phenol, and minerals. These ingredients come together to make the peel work to brighten dull skin to produce a glowing complexion and also to address numerous skin concerns. Even if you exfoliate regularly, a VI Peel can achieve excellent results.
There are three types of VI Peel currently available:
Original VI Peel


A blend of powerful ingredients suitable for all

skin types

to improve the outward appearance of skin by tackling a wide range of conditions and issues.

VI Peel Purify


Designed to tackle acne-related issues, this formulation contains benzoyl peroxide and salicylic acid to remove blemishes, Kojic acid to reduce

acne scars

while overall it reduces pore size, eliminates bacteria, improves tone, and stimulates the production of

collagen

and

elastin

.

VI Peel Advanced/Precision


Precision Plus adds Hydroquinone to the mix and is formulated to deal primarily with

skin discoloration

–

hyperpigmentation

,

melasma

,

age spots,

etc.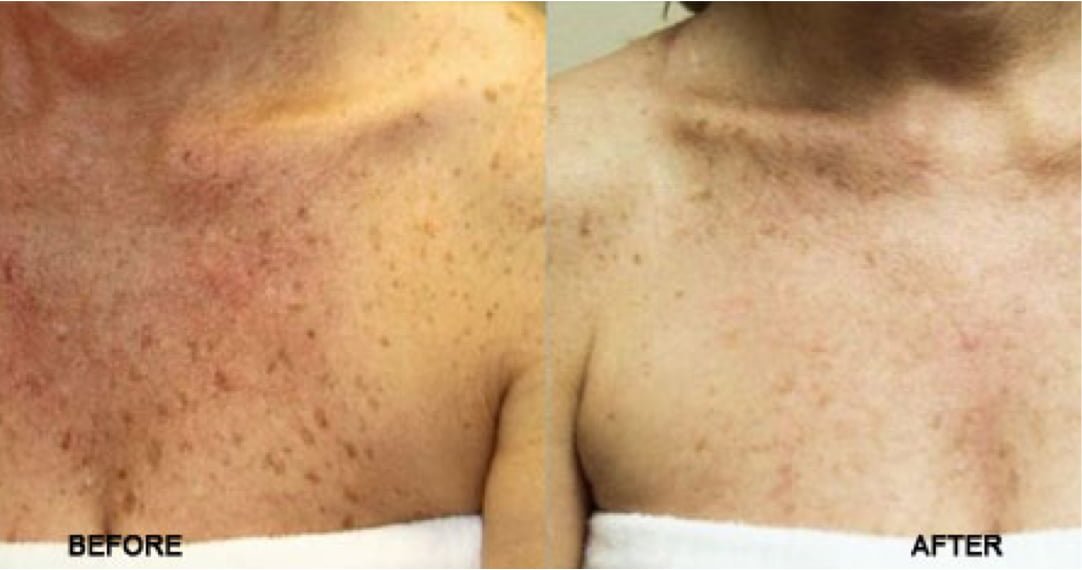 What Does A VI Peel Do?
VI Peels are multi-functional and can be used as a general esthetic treatment to improve the look and feel of skin or as a treatment to target specific skin issues. Like all chemical peels, by exfoliating the skin and generating new protein growth, a VI peel can
 Improve the tone, clarity, and texture of the skin and reduce

breakouts

.

 Eliminate or reduce things like freckles,

age spots

,

sun exposure

damage,

sun spots

,

dark spots,

and

melasma

.

Soften

fine lines

and wrinkles, leading to skin

rejuvenation

.

Help ease acne-related

skin conditions

and reduce or eliminate

acne scars

Exfoliates

to remove

dead skin cells

to brighten the complexion

Stimulate

collagen production

to promote firmer, more youthful-looking skin.

A great force for

anti-aging

and fighting the natural but maybe premature

signs of aging

.
A trained cosmetic physician or esthetician will know which of the three peel types is best to tackle the condition you want to treat.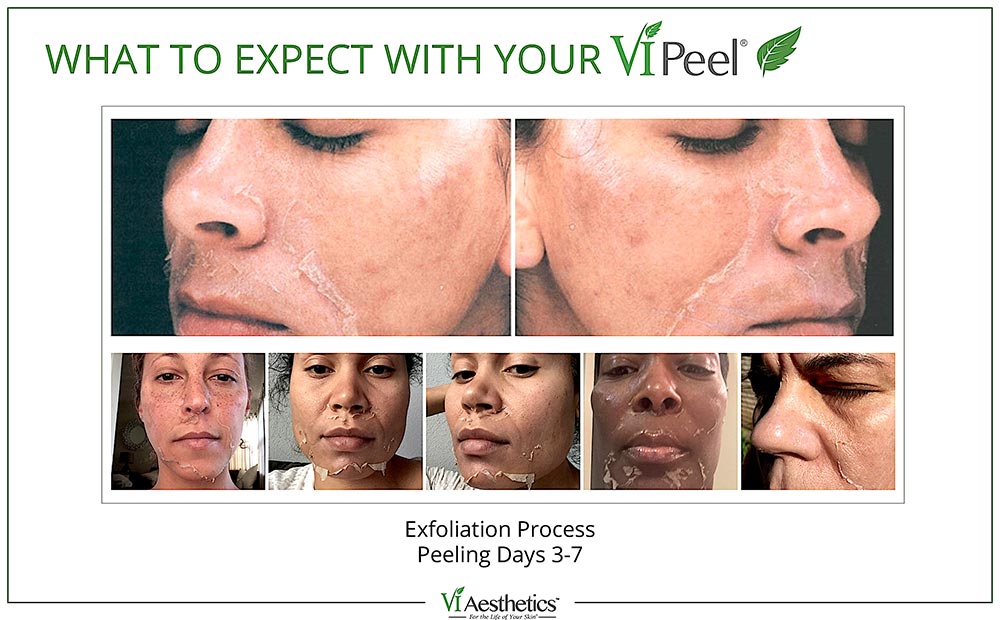 What Skin Conditions Can A VI Peel Help?
The potency of the individual ingredients in a VI peel enables all three types to address a wide range of skin issues including and not limited to:
acne scars

melasma

rosacea

hyperpigmentation

keratosis pilaris

actinic keratoses (also called solar keratoses)

uneven

pigmentation

patches of

darker skin

sagging skin

enlarged pores.
What Are The Benefits Of A VI Peel?
A VI peel treatment can help in several different ways. The medical-grade ingredients used in the procedure can help to improve skin tone, texture, clarity, and radiance. They are very effective for diminishing the appearance of wrinkles and fine lines, shrinking large or enlarged pores, and tightening the skin by releasing both collagen and elastin. Results can be seen almost immediately. Results are not permanent. The peel can be repeated every two to four weeks for problematic skin. Once improvement has reached your expectations, treatments every three months will maintain radiant skin.
Please note: If you want to consider a VI peel, it is strongly recommended, to have the procedure performed under the supervision of an experienced cosmetic physician. Complications, though rare, can occur when chemical peels are performed by inexperienced providers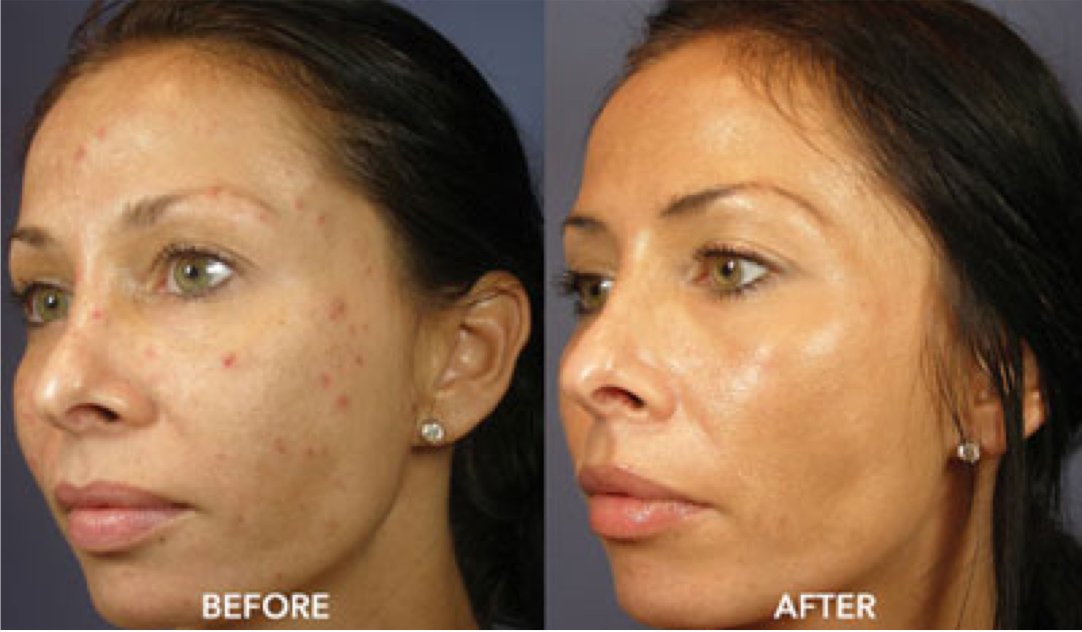 Who Is A Good Candidate For A VI Peel?
A good candidate for a VI peel treatment meets a couple of different requirements. The treatment is safe for any skin type, but not if you have an eczema flare-up or a severe sunburn. It is also recommended that the peel should not be used if you are pregnant, have recently given birth, and are currently breastfeeding your child. This is due to the risk of certain chemicals in the solution entering your bloodstream which would not be ideal for your little one. Ultimately, it is always best to consult your doctor about the prospect of having a VI peel treatment done, most especially if you have eczema, or sunburn, or are/have been pregnant recently.  
Are There Any Side Effects?
As with any type of cosmetic procedure, there are always going to be potential side effects and risks when undergoing a VI peel. It is important to stress that these side effects, if they occur, are usually very mild and will go away in the expected, standard time frame. Usually, all that is needed to ease these side effects will be a little bit of time and perhaps the aid of a few over-the-counter painkillers to ease any slight discomfort.
Side effects can include:
skin discoloration

 burning pain

 blistering to

top layers of skin

 swelling

 allergic reaction on

prone skin

 itchiness

 dry skin

 infection

 redness

 inflammation

 scarring
The more serious side effects listed here are very rare, and not all an expected or normal part of the VI peel process.
The Takeaway
Numerous skin conditions can be improved by a VI peel. It is a medical-grade treatment and is best performed by trained professionals in an esthetic center. They will provide a consultation to identify if a chemical peel will provide a solution and decide on which type of VI peel is most suitable. 
Z Cosmetic Health offers an array of cosmetic treatments including the VI peel. Schedule a consultation with our team to see if the VI peel is right for you!