Have you heard of microneedling? It's a cosmetic treatment that improves the skin's tone and texture through the application of tiny, sterile needles. Microneedling has incredible benefits for the skin. It can treat fine lines, oily skin, acne scars, rosacea, hyper pigmentation, and can even shrink the pores. In this post we'll cover everything you need to know about microneedling, including how it works and its benefits for the skin.
What is Microneedling? How Does It Work?
Microneedling is a cosmetic treatment that is also sometimes called Skin Needling or Collagen Induction Therapy. A microneedling treatment involves puncturing the skin with tiny, sterile needles. At the Z Center for Cosmetic Health, we use an advanced, 24k gold microneedling device for all our microneedling treatments. Each needle on this device is smaller than a strand of hair.
So, why is puncturing the skin with these tiny needles good for the skin? How does microneedling work? The microneedling device we use at our center is able to treat the deep skin without affecting the top layer of skin. When the deep skin (technically called the dermis) is punctured by these needles, it naturally begins to produce more collagen, which makes the skin look smoother, younger, and more even.
The specific microneedling device we use at the Z Center for Cosmetic Health is also able to deliver products directly into the skin with no pain, bleeding, or bruising, which other microneedling devices can't do. Applying products directly to the dermis allows them to penetrate the skin more deeply, giving exceptional results.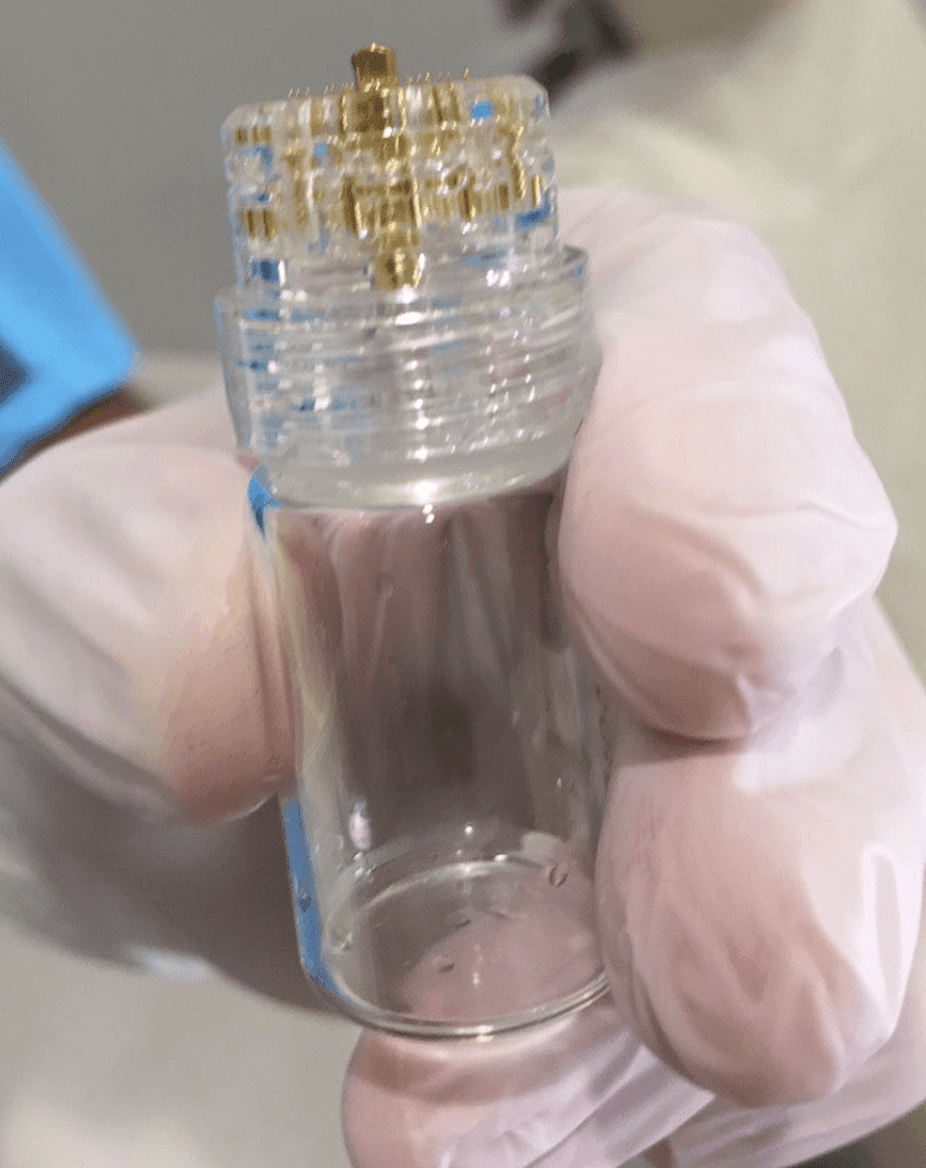 The Instrument Used for Microneedling
What Results Can I Expect From Microneedling?
Microneedling can treat a wide variety of skin issues. Microneedling treats:
Fine Lines and Wrinkles (Including Around the Eyes and Mouth)
Large Pores
Oily Skin
Acne Scars
Rosacea
Hyper Pigmentation
Melasma
After a microneedling treatment, you'll notice smaller pores, improved skin texture, and improved skin evenness.
In addition to treating these issues, microneedling generally rejuvenates the skin, thanks to its collagen stimulating effect. As we mentioned earlier in this post, microneedling can also deliver products more deeply, making them work more effectively. Some examples of products that microneedling can apply include antioxidants, dermal fillers, Botox, vitamin complexes, growth factors, and stem cells.
The Difference Between At-Home and Professional Microneedling
While there are skin needling devices for at home use (these are sometimes called derma rollers), they don't offer the same benefits as a professional microneedling treatment. These at-home rollers don't penetrate as deeply as a professional microneedling device can and, therefore, don't stimulate collagen production in the same way. On top of that, these at-home devices can be damaging to the skin when applied incorrectly.
Microneedling is excellent for the skin when done correctly by an experienced professional who is using the proper equipment. But we would advise against at-home treatments, which can often do far more harm than good.
Professional Microneedling For Smaller Pores and Smoother, Rejuvenated Skin
At the Z Center for Cosmetic Health, Dr. Zadeh uses a revolutionary new microneedling device that stimulates collagen production and can deliver high grade products directly into the deep skin. If you're considering trying microneedling for more even, healthy, smooth skin, contact our office today to make an appointment.